All roads lead to Nassau County, FL
Northeast Florida is one of the nation's foremost locations for logistics companies and is poised to become a leading international center for trade and logistics. The area boasts an intermodal system that is second to none, a well-established Latin American trade lane and rapidly expanding Asian and European service.

Nassau County's strategic location just north of Jacksonville, Florida allows convenient access to markets throughout the eastern United States. Florida is a major destination market for many consumer products, and Northeast Florida companies shipping to other parts of the country enjoy low backhaul trucking rates.
Exporting Goods from Nassau County
When it comes to exporting goods in Nassau County and the State of Florida, opportunity abounds. The Port of Fernandina supports container lines serving the Caribbean and South America. Click here to learn more about export programs in Florida.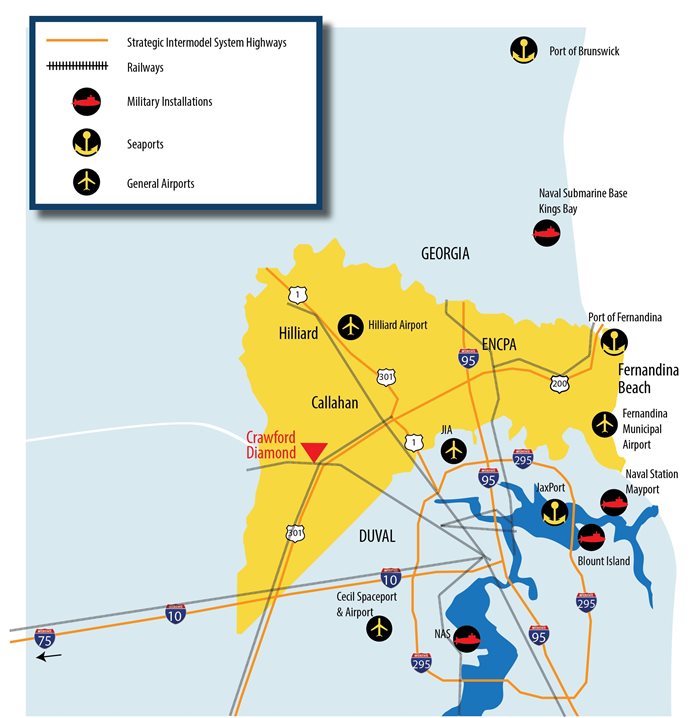 Multiple Interstates and Highways
I-95 - serves the East Coast of the United States and terminates at the Houlton–Woodstock Border Crossing at the Canada-United States border
I-295 - located 8 miles south of Nassau County provides access to the Port of Jacksonville and I-10, which runs from Jacksonville to Los Angeles, California.
I-10 - runs east to west across the southern United States and terminates in Santa Monica, California
US 1 - runs from Fort Kent, Main at the Canadian border south to Key West, Florida, making it the longest north-south road in the United States
US 17 - also known as the Coastal Highway, it is a north–south artery that spans the Southeastern United States. Its runs south to Punta Gorda, Florida and its northern terminus point is in downtown Winchester, Virginia. US 17 runs parallel to I-95 for much of its extent
US 301 - runs from Sarasota, Florida to Glasgow, Delaware
I-75 - less than one hour from the western part of the county, serves the Southeast and Midwest and terminates in Sault Ste. Marie in the Upper Peninsula of Michigan
Rail
Local Ports